Ever wake up after a party and go, "Hey, this isn't my shirt," then realize you just scored a darn fine shirt?
That kind of describes the coil-overs on our M3.
Read on to hear how that situation played out.
We needed a car with some coil-overs for our YouTube show. The topic: corner-weighting.
Our 2004 BMW M3 needed coil-overs. Can't have stock ride height, right?
The Bilstein B16 (PSS10) kit caught our eye. Next thing you know, they're on the car.
So, let's back up a bit. What exactly are we looking at? This line of coil-over kits—well, technically the rears aren't coil-overs, but we're using the vernacular here for dampers combined with threaded perches—is billed as combining "driving experience and driving comfort." They're not sold as competition parts, but the damping is adjustable: 10 clicks that simultaneously change compression and rebound. (Bilstein also offers a Clubsport kit that features independently adjustable compression and rebound, but the price is more than double: about $4100 versus $2000.)
These B16 kits also feature upside-down monotubes. Monotubes feature a larger piston diameter than twin-tubes, usually resulting in increased sensitivity, while the upside-down mounting helps reduce unsprung weight.
And there's an adjustable ride height courtesy of threaded bodies. The stiffer, progressive rate springs fit into the stock upper mounts, meaning the fronts are tapered while the rears are beehives.
Something else to discuss: These kits feature TUV approval, meaning someone in Germany signed off on their roadworthiness. (In this case, it might have been a person named Ulrich.)
One thing that is not discussed in the Bilstein literature, however: spring rates. BimmerWorld offers this kit, so we asked the folks there if they had any rate info.
"They are progressive springs, so obviously they have a softer starting point than this, but on the top end—closer to fully compressed—that kit should be 390 lbs./in. front and 560 lbs./in. rear," explains Phil Wurz,
sales manager at BimmerWorld. "Your in-the-middle/normal ride height range is probably around 225-250 lbs./in. front, 375 lbs./in. rear."
The stock rates, best we can tell: 143 lbs./in. up front and 345-685 lbs./in. out back.
So, our big question for the BimmerWorld crew: What kind of rates does someone want for a dedicated track M3?
"That answer has a pretty broad range and really is very damper-dependent," Phil explains. "Some dampers out there operate in a bit more of a narrow range and really may not be able to support the rate we would actually prefer to see on something like an E46 M3.
"If you're able to use a premium damper, like something from MCS that has a larger range and solid control, then what may be optimal for track use could be anywhere from 600-900 lbs./in.—or maybe even more. We custom-tailor each of these setups and parts to the driver, car, tire and track, so there really is no blanket answer of 'These are the optimal rates,' but we are here to help define what those optimal rates may end up being per application."
Back to our car: Installation is the classic reverse of disassembly. We lowered the front a little more than half an inch and dropped the rears by about a third of an inch. The goal for this exercise was to get the corner weights spot on, and after some adjustments, we scored a 50% cross weight.
After corner-weighting the M3—which you can relive in this video—we aligned the wheels: 2 degrees of negative camber along with zero toe up front, combined with 2.25 degrees of negative camber and 1/8 inch total toe-in out back.

After living with the Bilstein B16 coil-overs, we've noticed some pros and cons. First, let's do the pros:
Ride quality on the soft damper settings is nearly stocklike. We figured we'd pay a penalty and that did not happen.
Handling feels tighter than stock, but the basic traits haven't changed at all. Our M3 still feels like our M3.
They fit like

OE

pieces.
They look good and, in theory, that zinc coating will go a long way.
Adjustable damping.

TUV

approval.
Cool-running monotubes.
Before we discuss the cons (and don't worry, nothing major), let's enjoy the sounds of some E46-chassis M3 race cars at the Nordschleife.

Okay, those cons:
Occasional clink from the rear, but no clunks or weirdness.
Adjusters are located at the south end of the bodies, meaning tight access.
Adjusting rebound and compression together is a little unconventional.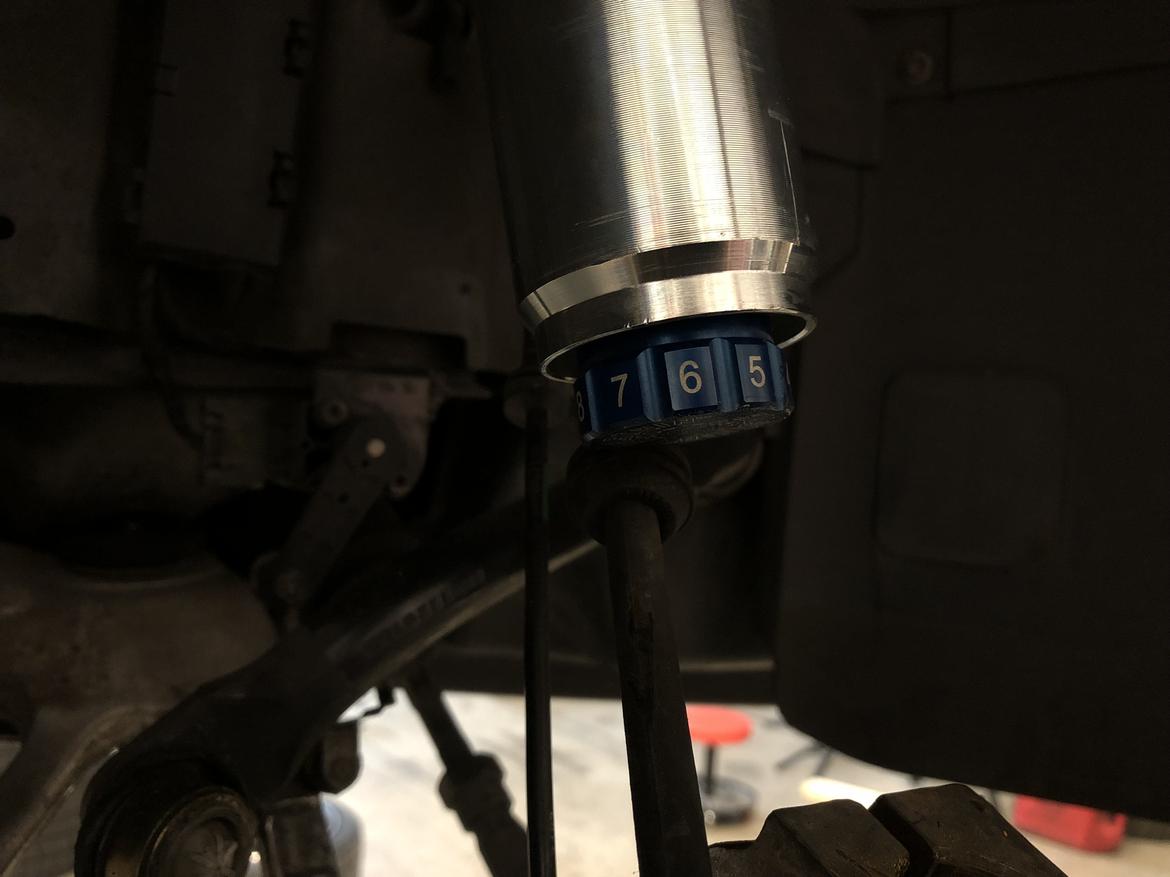 Rates feel soft—perfect for street—but likely not enough for a dedicated track car.
Not set up for standard coil-over springs.
We'll reveal our final verdict after some before-and-after photos (and the after photos are on TSW Accent wheels):
This kit functions as great street setup. Like, we could see these coming on an Alpina or a tuner car designed for fast road performance without sacrificing street manners.
It also makes a good track setup for the person who wants to run some laps.
However, this is not, nor is it billed as, a setup for your track rat.
This is an easy, one-box-solution coil-over kit that's a step up in performance and aesthetics while also being long on comfort and refinement—perfect for this car's mission.
How about a second opinion from James Clay at BimmerWorld? "I think you nailed it," he says. "Bilstein is an OE-level supplier and tremendously good at a refined suspension solution, from direct damper replacements up to entry-level coil-overs.
"There are certainly other cheaper entry-level options, but Bilstein always comes through in a big way on the good-manners requirement that I would want if I was focused on street driving and performance. The springs are heavier, and while not a true track rate, they are solid for the intended use and certainly make the car more track capable. And again, those manners!"
Like what you're reading? We rely on your financial support. For as little as $3, you can support Grassroots Motorsports by becoming a Patron today.
Comments
View comments on the GRM forums
You'll need to log in to post. Log in